Dads and donuts
May 11, 2015 @ 07:05 pm 🔗 Post Link
Family, food, hockey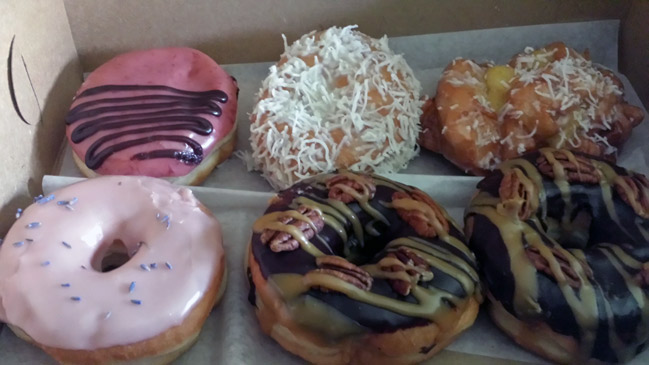 Saturday bdot and I drove down to Niagara to see my parents. We initially planned on stopping to see an artist and another art display but plans changed. My Dad is home and setup with oxygen, nurse visits and all sorts of equipment to allow him to be home with his very limited mobility. My Mother had a memorial service to attend to so I had many hours to talk to my Dad. He was pretty upbeat and we talked about all sorts of things. Bdot ventured out to do some shopping and returned with some incredible donuts from Beechwood Doughnuts. My Dad has suffered through hospital food for a few weeks so he was eager to get some Chinese take out for dinner. I picked it up. it was interesting to drive around parts of St.Catharines I haven't seen for years. So much change and growth. My Mom got home fairly late and my Dad was zonked after talking all afternoon so we didn't stay long after dinner. It was a great day to see them both.
I never thought I'd be excited about drainage. But after dealing with numerous water issues (some we still are dealing with) on our property it was a huge relief to see water draining AWAY from the house yesterday during the rainstorm. That said the rainfall exposed other drainage issues that will have to be addressed. Home ownership sure seems like one step forward, two steps back at times. Sigh.
After being out all day Saturday, Sunday was mostly for housework. Weeding, cut the lawn, laundry etc.. I watched most of the #TFC home opener. It was the first game with the new renovations. BMO field has added close to 10K more seats. While the stadium might be new and improved, the same old TFC took to the pitch. Bradley might have played his worst game and the Reds lost their opener. Blah.
Flames were eliminated from the #NHLPlayoffs last night so the only Canadian team left is the #Canadiens. Ho-hum.
I've added the Hashtag plugin for wordpress, so I'll be adding tags now for various things. They become clickable as a search for that item. Sounds pretty cool to me.