Chainsaws. Meat. Fire. Llama. Booze.
July 21, 2014 @ 05:07 pm 🔗 Post Link
Family, food, Apple, Bill and Anita, iPod, iTunes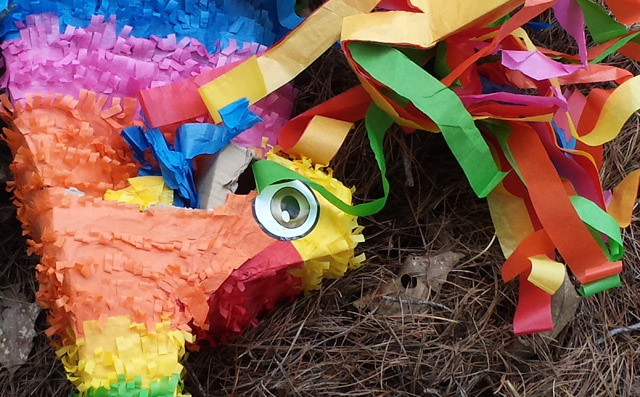 So bdot didn't end up going to Killaloe. Her longer than expected work week made it impossible. So, instead we went to her sister's cottage to celebrate her brother-in-law's (Bill's) birthday. We went up after my massage around 1ish on Saturday, right into a wall of traffic on the 400. Yup. Traffic cost us about an hour of misery… Everyone was already well onto getting their party on once we arrived. Within minutes of arrival we already had a Tequila shot and were onto the next round. Bill was wearing a t-shirt that said 'Drunk #2' on it and his Brother-in-law was 'Drunk #1'. The first order of business was dinner. The drunks and I prepared deep fried chicken wings and fries. They were amazing! I've eaten World Famous wings in Buffalo and they were easily as good or better than most of the restaurant's I've been to. Not surprisingly we ate all 5KG of them. After dinner the menfolk wanted fire. This is a theme when men are together in the outdoors with booze. *smirk* This necessitated the need for wood. Which meant the chainsaws came out… and trees fell. Yup. Eventually there was a 15ft fire blazing and two fewer trees on the property. There was plenty of booze consumed. In no order: Yellow Bird Rum punch, Dark beers, light beers, Absinthe, Bushmills… Ha. Only two made it past midnight. What a fun day. So the adults behaved badly as they usually do. Our nephews also had a lot of fun playing with RC toys and stabbing each other with Nerf pirate swords. Yarrr! The boys (and drunks) took turns spanking the llama. *smirk* No. The piñata llama; which withstood a lot of abuse before candy exploded all over the deck.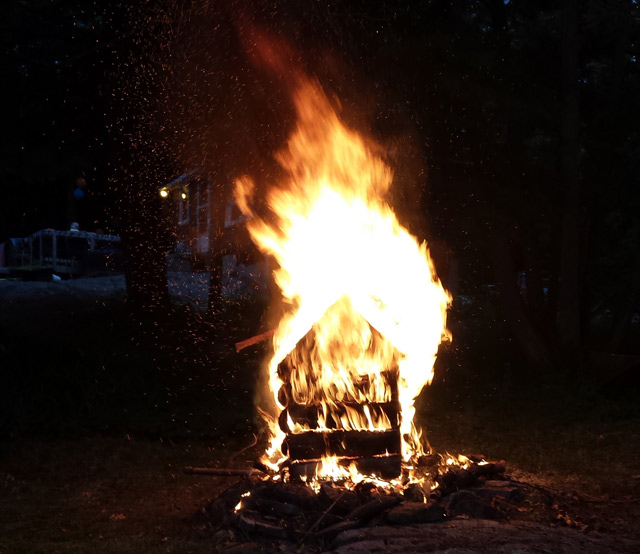 Huh. About four years ago I lost my 32G ipod. It made me very sad. It was the last Apple product I bought. Well… my sister-in-law had a present for me this weekend. She found the long lost ipod in the bunky under a mattress. All this time I thought it was stolen. Awesome! It was awesome until I synced it up with iTunes Destroyer of Worlds. Yes, it updated my OS to the highest possible which is 4.2.1. Fine. It wiped out my music. Whatever… I can copy new stuff back. I can download new apps… No prob…er…lem… WHOA. Technology waits for no one. All the apps I try to download required at least iOS 6 – making an iPod stuck at iOS 4.2.1 significantly less useful than it was. I've read iTunes is suppose to offer you older legacy versions of apps. But this never happens. Yes I can browse and use mobile facebook and mobile twitter but the apps no longer function. Strangely I also can't find any way of getting my GMAIL to work. The browser claims it doesn't accept cookies, (the settings say they are fine) the app need iOS 6 and the password is always wrong when I create a new Mail profile. It was really frustrating. I'm sure a older Android device would be a pain in the ass too but wow…. what a poor user experience. It sucked hours of my time last night. (Likely more too I wager…Siiiiiiiiiigh.)
Update:
The ipod email failing was due to having google's two step security enabled. Disable it and voila. E-mail….That said I want two step on my main e-mail account. So… I forward a copy to a secondary account for reading, which seems to work fine. Gawd I hate iTunes. What a horribly designed piece of shit.
This is our final week before we get a week off with the Macky family.
Hopefully remember to add a photo to this later…