Give blood. Play Hockey.
July 20, 2011 @ 06:07 pm 🔗 Post Link
hockey, zappy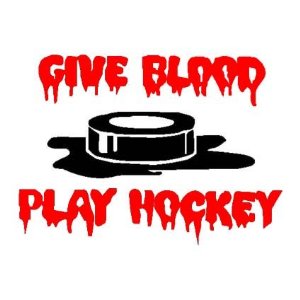 Yup the tradition continues with less than 3m left in the 3rd of my ball hockey game I took a high stick to my upper lip. (It was a team mate. He felt bad… shit happens in sports. I'm glad it wasn't an eye or a tooth, really, 'tis but a flesh wound) It was a nice gash. The guys said I should get it looked at. So I spend my night in the Emergency room. I guess it was pretty quick… The doctor was really nice, patched me up and said I'd be good to finish the game. My teammates suggested 'crazy gluing' the laceration. I asked the doctor about that (which I never entertained) and he laughed. It is good you didn't do that. *smirk* Frankly I find it remarkable I'm nearly 4 decades old and have only got stitches now. I think the doctor did three stitches. The game… we lost, yet again… and again only two subs. In spite of this I love hockey. The guys look at it as a mark of pride. I don't know about that… Certainly there will be a scar under my mustache. Anyway, I'm completely bagged now.
Crazy red moon out. It certainly feels red hot here lately. Tomorrow has a chance to reach 100F for only the third time in history for this area. Ugh. I'm really hating this heat.
Zappy cat had dental surgery. Apparently she was a pain in the ass. I guess I must feel a little like she does.