Les rouges allez! Or not.
June 5, 2011 @ 06:06 pm 🔗 Post Link
Family, friends, home, sports, nIVEK, Toronto Football Club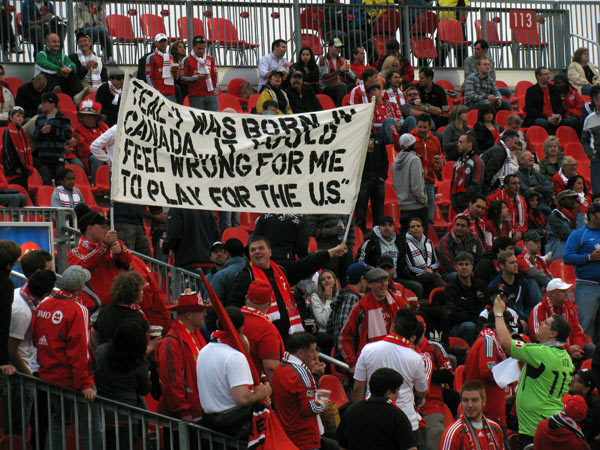 Another busy weekend. I think they will all be this summer since we have so much to do to our property. Saturday morning started with a numbing massage. Bdot started painting the fireplace room… it is being updated to Wilmington Tan. Bdot finished a second coat today and it looks great! It makes the room significantly warmer – pun intended.

In the afternoon I went with KK to Toronto to see Toronto FC v. Sporting KC. The weather was typically unpredictable… At one point it looked like we'd get sun then it clouded over and looked like rain. It ended up settling on being overcast and cool. I'm glad I brought a jacket. It was a pretty unimpressive game. TFC looked pretty sloppy, missing passing all night… they had very few scoring chances. The teams played to a 0-0 draw. Ho-hum. I guess it was better than the 6-2 shellacking they received their previous game. Still, the atmosphere at the game was fun. We were a section over from the Red Patch Boys who a boisterous club that sing and cheer all game long. They are pretty awesome. Qu'est ce que vous chantez? Nous chantons les rouges allez! They came prepared to give Teal Bunbury the gears. Bunbury has played the Canadian national U-17 and U-20 teams. Though he had said he would play for Canada and it would be "wrong" to play for USA, he was called up to the full USA team on November 11, 2010 as part of the squad to face South Africa. The Red Patches came with signs that read 'Judas' and booed him every time he touched the ball. I'm pretty sure I saw him smirking often a loud chorus of booed were launched at him. It was a fun night with KK in spite of the ho-hum soccer game.
Today was spent outside doing yard work. I finally moved a ton of soil to the backyard. There is soil now down on the entire span of the left side garden. I also cut the lawn and did a bunch of weeding. I'm pretty beat now.
The trailer that I grew up at outside Ennismore has been sold. I spent a lot of time of there growing up. I'm hoping to say goodbye to it before the sale closes in early July. It is irritating that I had to discover this via Facebook. *eyeroll*