Bills with the Boys
December 10, 2012 @ 09:12 pm 🔗 Post Link
Buffalo Bills, Family, food, Blue Line Diner, Lake of Bays Old North Mocha Porter, Tailgate, Youngs Double Chocolate Stout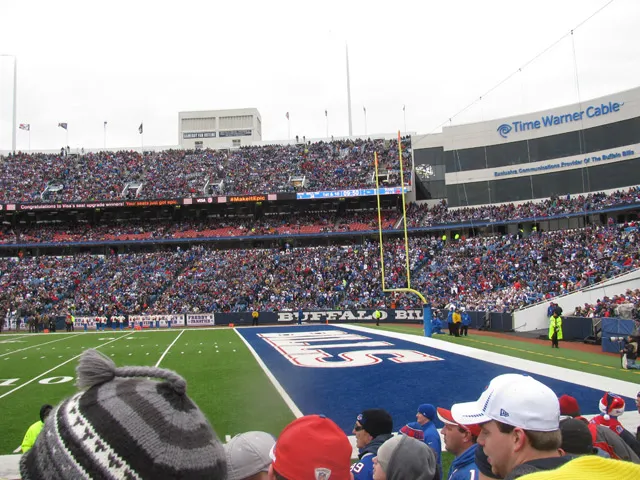 After a long week battling some sort of virus or whateverthefsckplaguingassholegermthing I was finally feeling human on Friday. I had a day or two where I was in rough shape the rest were bad but not enough (IMHO) to stay home. Meh. Fortunately after a steady diet of Advil, Cold-FX and Vitamin-C I felt strong enough for the weekends big game. Yes my BiL offered me one of four corporate tix that became available for Saturday's NFL Buffalo Bills v. St.Louis Rams game.
We met up Saturday afternoon at King Parking/400. He had two buddies with him whom I've never met, let's call them Bad Santa and Fresh Air. *smirk* There was some debate about where we'd stay since three of four of us had family near the border. We decided to stay at Fresh Air's parents since they were a mere 5m from the border in Niagara Falls, and they offered a steak dinner. So, that was an easy decision. Before dinner however we needed supplies for the tailgate: food and booze. BiL suggested pizza and wings (of course) from a place he used to get from all the time…unfortunately it is now closed – hmmpt. So we got food from Duff's in St.Catharines which turned out to be a solid backup plan. For booze we stopped at the Fairview Mall LCBO… wow. The place was packed on a Saturday night, all registered manned with people in line. Drink much Niagara? I picked an assortment of dark beers for BiL and I including (of course) Innis & Gunn, Great Lakes Winter Ale, Youngs Double Chocolate Stout, Lake of Bays Old North Mocha Porter (I'd link to their site but google is popping a site warning, so… no-sale) and another whose name eludes me. These special winter beers are often at higher alcohol percentage and can knock you on your ass if you aren't careful. *wink* Fresh Air's parents have a comfortable home in the Falls and had the table set, ridiculous chocolate chip cookies, salad and mashed potatoes ready for us when we arrive. Awesome. The boys drank all the way down to Niagara. I was pacing myself since I wasn't fully clear of the sickness. Dinner was delicious, the steaks were done perfectly and there was a lot of getting to know each other convo. After dinner we played some Euchre. By this time the boys were in hammeredsville. Bad Santa was the most talkative and recounted (seemingly painfully at times) the passing of his sister and other facets of his life. I guess he needed to unload. He also unloaded his pants and played a few rounds of Euchre in his boxers. Yes sir. Fresh Air's parents were good sports, they have a few sons and this didn't phase them at all. It was a fun night, I think we crashed after 4AM.
After only 4h sleep we slowly got going and were on the road toward NY State. But first, an interesting breakfast stop at the Blue Line Diner which was recommended by Fresh Air. The Diner is owned by NHL Great Marcel Dionne! Who knew? Not only was there a delicious breakfast available but wow Marcel also has a massive multi room hockey memorabilia shop in the back. And he was there! He seemed like a great guy, eager to talk hockey and share some stories. I bet we could have listened all day but tic-toc, gameday. I'll certainly be back for more eggs and Sabres stuff at some point. The drive to the Ralph was surprisingly painless. We took HWY 5 along the harbour which was actually rather pretty. Parking however was not. It cost $20 and didn't include any form for sex act. Gah. Unreal. I'd love the know how much CASH they take in for parking. The lots are massive…
I didn't know what to expect at the Bills tailgate. It was pretty cold outside but people seemed to be having a good time. People were just BBQing, tossing a ball around, drinking etc.. I saw lots of people with kids. It was a lot of fun once I got my wool socks on. The boys continued getting their drink on. I nursed a beer. I wasn't feeling too hot and my stomach was unsettled… but I did take a few hits of Fresh Air's Jack Daniel's Tennessee Honey which was incredibly delicious. It is so tasty it might off Glayva as my go to sipping shot. After we were primed and fed we walked to the Ralph. Naturally our section was on the opposite side of the stadium so we walked the entire length of the Ralph to get to our amazing seats seven rows up on the Bills goal line.
The game was pretty ho-hum in the first half with both defenses playing well. The Bills had an interception that was run in for a TD BUT it was called back with a penalty… 6 points which the Bills could have used. Bills fans have a lot to complain about. They always seem find ways to lose. Sure Fitz tosses some horrible balls, but IMHO football is about capitalizing on your chances. You only get so many in most professional games and the Bills never capitalize. They call timid, safe, conservative plays instead of trying to win… I think they play with fear. The Bills marched the ball down to mid field and got stuck on a forth down… Instead of trying to score they punt it away. Three points the Bills didn't even try to get… Three point they ended up losing by. It was a brutal loss too. The Bills were up late in 4th and just needed to stop the Rams one more time to win. But they didn't and the Rams scored 8. The Bills then had 1m to get 3… (which is completely doable) then Fitz tosses the final chance away with an interception. Yup… the Bills find ways to lose. Outside of the game and the expected Bills find-a-way-to-fail it was mofo cold in the Ralph. By late in the 3rd there was freezing rain. By the 4th I couldn't feel my toes. Our section 317? was good, no issues. I've heard and seen some horror stories about asshole Bills' fans but everyone around us was cool. The stadium seems a smaller than it looks on TV… There wasn't too much going on, the 'Jumbotron', cheerleaders but otherwise not a lot of extra stuff. So you can really focus on how horrible the Bills are. Still, the atmosphere is great, the crowd was great and it was a really fun afternoon outdoors, even if it was a little cold. Final score was 15-12 Rams which delighted Bad Santa.
It didn't take too long to get out of the lot by taking the 5… There were Sheriffs strictly controlling traffic on ever corner so things moved along pretty well. The drive was good until we got close to Peel region on the 400. Then bam!… the wet roads turned into ice roads and driving became treacherous. Apparently the southbound 400 was closed Sunday due to accidents. I could believe it. When we finally reached my car it was covered in ice. The ground was covered in ice. Just chiselling the car windows out of the ice coffin was difficult since your feet would slip and there was zero traction. I heard on the news there were hundreds of accidents. I passed several cars in ditches on King Road as well. Fortunately putting on the snows paid off again and they held to the road and got me home safely where I proceeded to collapse exhausted. (After getting groceries :P)
B. was sick all weekend and took it easy or slept. She did manage to decorate our trees and they look amazing. Yes, I'm the bastard who left my sick wife at home to go to the football game. She harbors no ill will… what am I going to do when she is sleeping anyway? Yes? No? Hmm.