Backyard 2.0
October 25, 2015 @ 09:10 pm 🔗 Post Link
Caledon, home, Tanga, Palgrave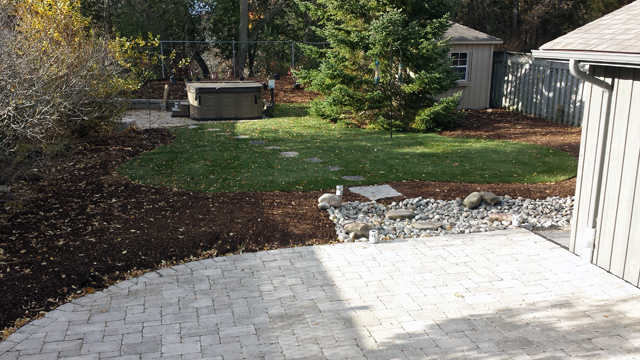 Bdot and I have had a dream…a vision for the backyard for many years. She saw it the big picture and possibilities of our property before I did. Slowly however we crafted the ideas into a plan and many visits to the garden centers in the area. It isn't done but the backyard has taken a massive leap forward toward what we envisioned. The weeds are gone! (for now anyway… I'm hoping I can keep up with the uptake now that I'm at a fair starting position….) The two tier, dangerous patio is gone. It has been replace with a slightly larger, single level patio with brick that matches the back patio and front walkway. While the aesthetic elements are incredible… the main purpose of taking on the updates was for drainage. The backyard now has a stone river bed which empties into a water basin. The basin then drains out of the backyard, along the side of the house and out to where it should be able to reach the road. In doing so the entire side of the house was dug up. So the ugly walkway there was also replaced. The intent is to use the side door more to enter the house. It is a remarkable transformation. We will slowly fill all the flower beds as we find the flowers, shrubs and trees we want. I'm looking forward to spending time in the yard next Spring with bdot!
Speaking of which… she is away at a conference for a few days. (In Orlando, FL) Before you get envious… she spends the entire time in conferences, meetings and rarely has any time for herself. Sure the location is nice. But if you don't ever see it then it is really just work. When she is away I get bored and take the dog for long walks, as we did today. We walked the Transcanada trail in Palgrave from HWY 50 to Humber Station Road. The TransCanada Trail website allows you to create maps. It is pretty cool!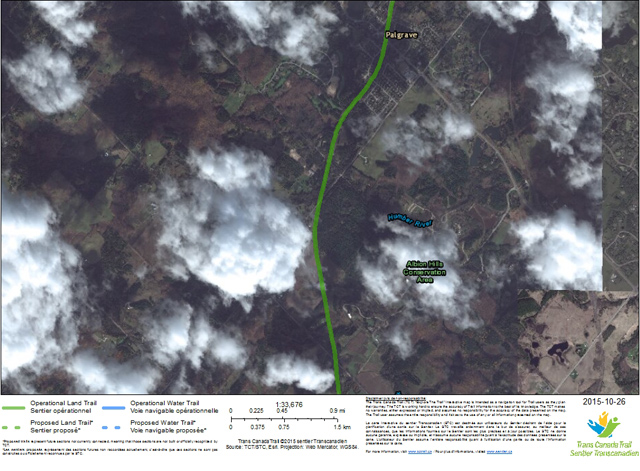 Google says it is a 3.5km walk – one way. Feels about right. It was a beautiful afternoon.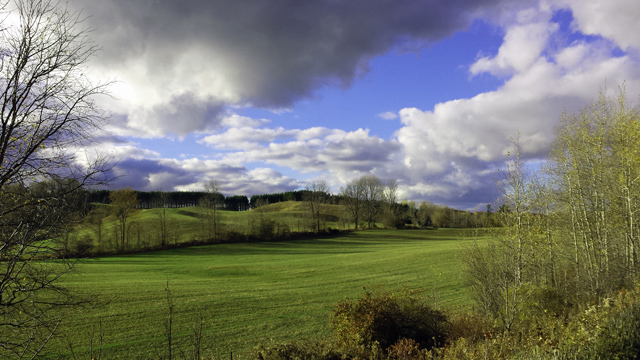 Thought this barn looked interesting. Yes it has been enhanced with photoshop. 😉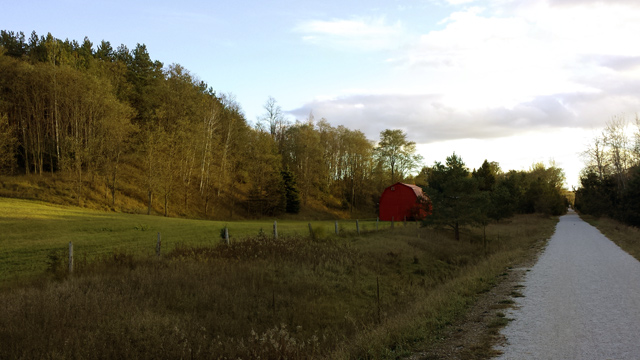 Sports… well it has been a lousy weekend for my teams. The Jays lost and are out of the playoffs. It was a heartbreaking way to go too… tying run on 3rd, no outs and they couldn't get him home. Sad. The Sabres got smoked by the Habs and showed no better against the Devils. Bills also lost. It was an ugly weekend for the Buffalo sports teams.