Spring abounds
March 19, 2012 @ 11:03 pm 🔗 Post Link
food, friends, hiking, Beecham Side Trail, Bruce Trail, Captain, Carlos Cantina
The weekend started early as my Employer let everyone out early Friday afternoon! We deal largely with schools in the area which were closed due to Reading Week and the weather was exceptionally good so it was a welcome perk. I decided to take advantage of the great weather and hike a section of the Bruce Trail with the dog. It was a beautiful warm March afternoon. The trail was pretty muddy, likely why I saw only two hikers… it was still great to be outside. The dog and I hiked for about 2.5hr. It felt like the entire hike was uphill. Gasp.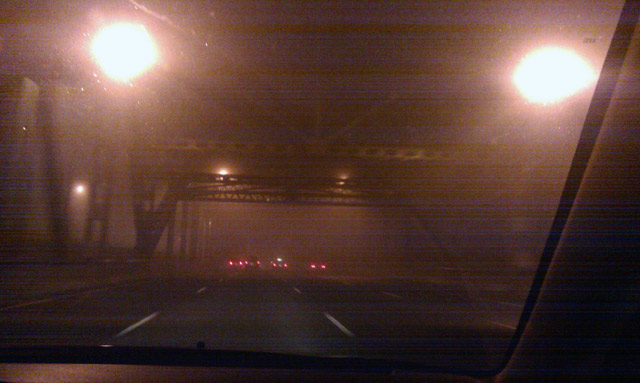 Saturday, St.Patrick's Day, we drove down to St.Catharines to spend the day with Captain, Jenn and APJP. It was a interesting drive down the QEW with some soupy fog near the Burlington Skyway. The first order of business was dinner. We went out for Mexican to Carlos Cantina. We've been to the Cantina before so we knew the food would be good, and it was. I tried the cheese-overloaded Steak Quesofundido which was delicious. Everyone enjoyed dinner and experimenting with the dangerous hot sauces on the table… I was happy to see some rejuvenation going on in downtown St.Catharines. It looks like a massive Arts centre is going in on St.Paul street and there were a few new cafes and restaurants. Later in the evening I found out my old stomping ground Gord's will be opening up again in April! For dessert we ventured over to DQ. I got a Mint Oreo Blizzard. It was yum. After everyone filled up on ice cream we returned to Captain's place. Earlier I picked up six Granville Island Lager, curiously I don't see the beer I bought listed there? *shrug* I don't drink a lot of beer anymore. I occasionally have one with dinner or to watch a hockey game… but I rarely ever have many beer. My body seemed to remind of this Sunday morning. Sigh. Yes, the beers were flowing with the good conversation and watching the Sens game. It was a fun night in Niagara.
Sunday was a write-off until late afternoon. A shameful hangover. Ughhhh… In the evening was the season finale of Walking Dead. *Whistles* It was a bad episode for the zombies. I think about twenty or so got chopped, shot or smashed as they overran the farm. There was a curious hooked ninja guy with two arm-less zombies on chains. What? I couldn't make that up… and there was foreshadowing of a prison in the distance. Season three looks like it will be pretty interesting!