Turkeys and Trails
October 21, 2021 @ 09:10 pm 🔗 Post Link
Fall, Art, Friends, Family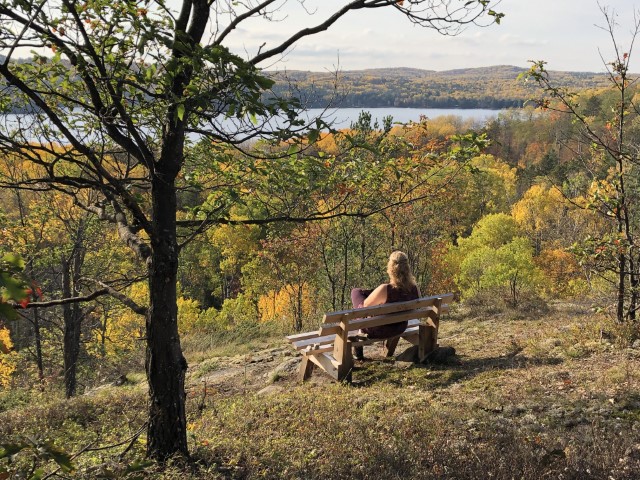 We brought Mystic and Zoe cat up North to Bdot's Mom's place for the Thanksgiving weekend. (No not our Zoie…. this was a cat re-homed from a friend) I was sure it was going to be a nightmare drive. A dog and cat beside each other for hours in a car… But it wasn't. The cat cage was covered and frankly, she was the best-behaved cat I've ever seen… Only a few meows when we checked on her, otherwise she was quiet. A Thanksgiving weekend miracle!
Once we arrived in Killaloe, the animals were separated into two sections of the house. Over the weekend we gave Zoe more and more space to explore – which the cast was quite excited about. I think she came from a one-bedroom apartment. By the time we left, she seemed quite happy looking out the second-floor window.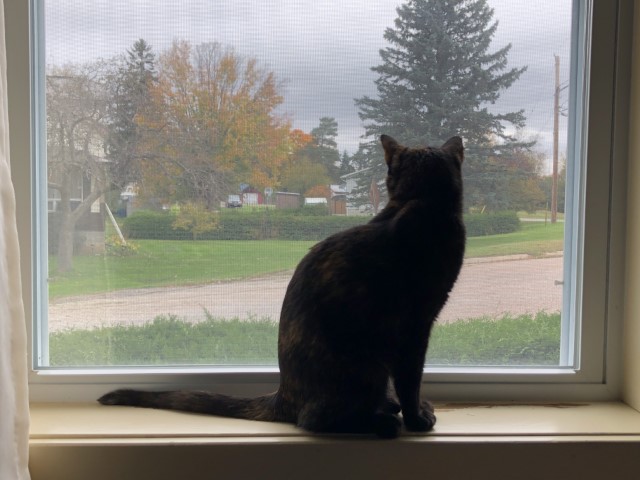 Bdot created a lovely feast and WOW! the turkey was ready when it was supposed to be! Jessica also joined us for dinner making it feel a little bit special. After dinner, we walked around town then enjoyed delicious desserts.
It was a pretty busy weekend dealing with the cat, ipad, computers etc.. We did not rush home either. We stopped for a quick hike outside of Wilno. It was wet but the view was incredible. The trail was in an undocumented road… when we came out a truck was parked right on our ass. A woman was waiting off to the side but didn't say anything. We took our time changing and repacking, and only as we were leaving did she return to her car. Pretty odd vibe there… The route home was through the beautiful Algonquin Park. Unfortunately, everyone was also driving home. It was a very slow drive…
Reports a week later suggest Zoe is quite happy in her new home.