Flat White?
August 16, 2021 @ 05:08 pm 🔗 Post Link
bdot, Gloucester Pool Cottage, Hiking, Vacation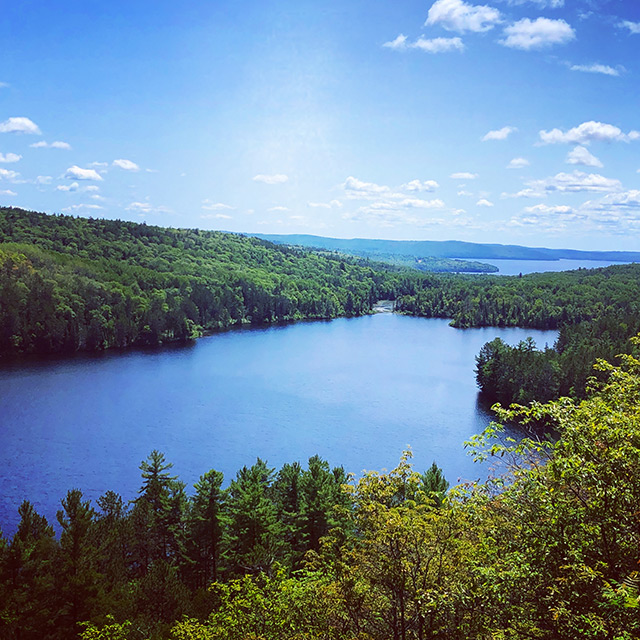 Since last post we took a short 'vacation' to Killaloe to see Bdot's mom and local friends. I was glad to see her Mom is managing okay on her own. She does have some local support which is good. We are many hours away. Our longest visit was with Jessica. She is watching her son's dog as he travels across Canada. We took the dogs on a few local hikes and discovered some amazing vistas. Mystic is crazy – she is non-stop on a hike. She got herself into a pickle as she slid down the side of some cliff (it wasn't a drop off, but still…) She was so exhausted after she climbed back up the hill she lay on her belly for a few minutes. Then… right back at it. She is very unlike the previous dog.
We were on a mission to get some decent french fries before leaving for home. We took a chance on LM Fantastic Fries and were quite impressed! There were even homemade burgers. This may be the new stop on the way home.
After Killaloe we were home for a day then back to the Cottage. It was the usual chill fun times. There was a dance off in the rain, attempted iPhone repair and great brisket. The dog was non-stop hunting for chipmunks. We were introduced to Ted Lasso as well. It is a funny series with the lead character running a Soccer team, he is very Ned Flanders.
Bdot returned to Barry's Bay the past weekend for a longer visit with friends. She came home with 40+ bug bites. Unreal. I stayed home with the dog for a relaxing weekend of games, soccer, movies and take out Chinese. Whoop whoop.
The fires that are burning in B.C. have gotten close to my sister. So close – she is in a prep for evacuation state. Unreal, hopefully the winds take a positive change in direction…