Surviving the Sharknado
August 3, 2020 @ 06:08 pm 🔗 Post Link
Canada, computers, Family, geeky and tech, Gloucester Pool Cottage, Mystic, Surface Go!, Wildermyth, Gaming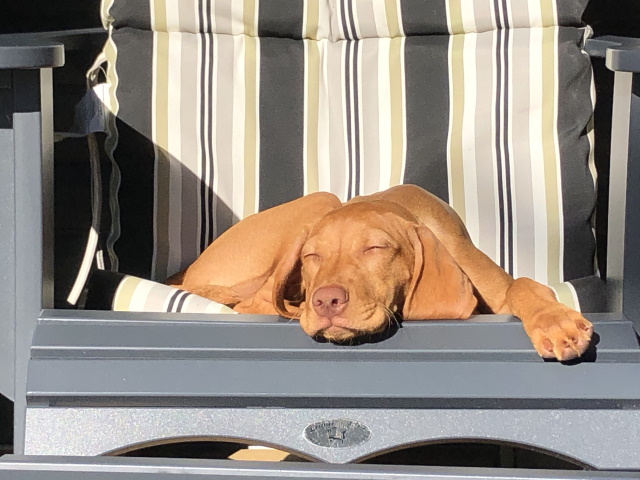 It certainly has been a while since my last update. Where to begin?
Well, we've now had Mystic for a few weeks now. As I've returned to working in office, Bdot has been doing the majority of dog care. And dealing with a puppy is very similar to a newborn. There is very little sleep, lots of screaming and incremental behavioral change. Mystic is very different than Tanga. We thought, of course, she'll be different but we didn't expect quite the energy level and challenge. The first few weeks were difficult. I think bdot has a bit of routine now for the dog so there is some respite but a lot of training time and *tiring the dog* time is going on. She is a bundle and requires constant supervision if not kenneled. She is slowly getting it I think..
With the new puppy our lives have changed quite a bit for the immediate future. It is now challenging to get out for a ride… (although one week was ridiculously hot anyway) We did manage a weekend ride with Mo however in Albion. It was fun. I do miss riding. It doesn't have to be overly arduous to be enjoyable. JP is looking for a route for us to do sometime. He is trying to get to (gasp!) 200km in a day.
We had a short few days away at the Cottage on Gloucester Pool. It was a lot of down time. Following the shade on the deck. Eating. Cooling Off. Drinking. Actually did very little. The location changed but the dog circus was the same. So we are both still quite tired – in spite of being on holiday. The rest of the family came up later in the week. Finally Sharknado had someone to crunch on other than us. We had incredible brisket Poutine and enjoyed cooling off in lake off the boat. Sadly my clip-ons got accidently knocked into the water… lost forever. I always expected I would be the one to lose them.
I've been back in office for a few weeks now. We are fairly busy. Wearing a mask sucks with glasses but it is a smart thing to do. I'd prefer to being connected to a ventilator or getting someone else sick.
I wanted to get something small I could use at work to take daily notes. So I've picked up a Gen 1 barebones Surface Go. The entry model at that… I'm really enjoying it (using it now in fact) – the palm rejection in OneNote is a bit disappointing so I'm likely just going to type my notes. Which is fine. It is really portable. If you understand what it is capable of – it seems like a excellent device. A few browser tabs, one or two apps and the RAM maxes out. But with this understanding, I'm quite happy with it so far. I love having a really small portable Windows PC.
Hockey is back. Go Blue Jackets!
Really enjoying Wildermyth RPG.