Incredible Killarney
August 3, 2019 @ 02:08 pm 🔗 Post Link
Canada, vacation, Georgian Bay, Granite Ridge Trail, Killarney Provincial Park, The Crack Trail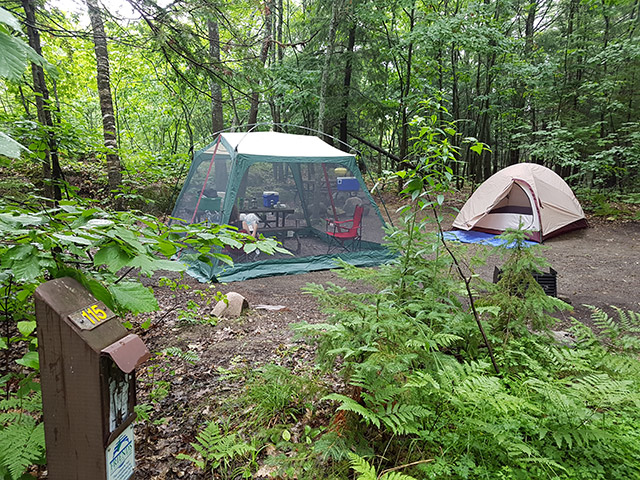 It has been a long time since we last camped. But the past week we spent in the amazing Georgian Bay area of Killarney at Killarney Provincial Park. Our old dog was dropped off at my sister's since we planned on hiking and kayaking beyond when she can handle. It is a sad reflection on how far our beloved pet has come with us. This is the first time we opted to let her stay behind because we felt she wouldn't be able to keep up us. It was a fairly long drive up to the Park. We had mediocre pickerel fish and chips along the Trans Canada. The drive into the Park down the 637 from the Trans Canada seems to take forever. It is long and very uneventful.
Immediately upon arriving at the park, the skies opened up and it poured. We waited it out and the rest of the trip we had perfect weather. We were able to setup the site with relative ease. I guess we have finally figured out the tent and dining tent. We have also optimized eating at the campsite. At one point we made fairly elaborate meals, spending time preparing and cleaning instead of enjoying our surrounding. Now we prepare a lot of meals ahead of time and simply reheat and eat. This has worked out well for us. Last at night after we crashed we were awakened by trash pandas raiding our beer cooler. I guess they recognize cooler by sight and check them out regardless if they are "food" coolers. Ugh.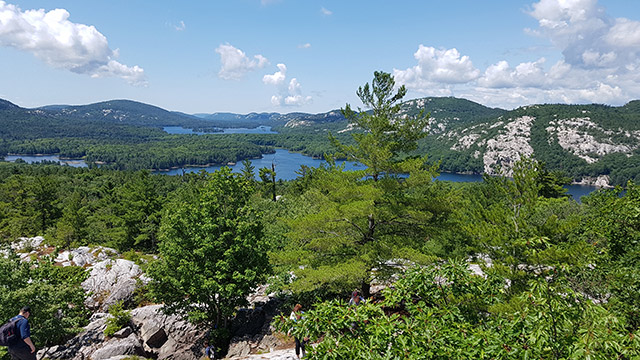 Tuesday we enjoyed a fairly strenuous hike called the "The Crack". It was our first time having to scramble to reach a vista. It was well worth it, the view was spectacular. Bdot was still dealing with knee issues – but we still made good time – even with her being extra cautious. There was an incredible opportunity to see the stars with a good sized telescope in the Park. But I was totally gassed but regret not going. We met some really nice people across from our site and they went, they said you could see Jupiter and Saturn. Sigh. We also walked down to windy George Lake and wandered around the Park a bit. In general, the sites are very well thought out, well-spaced and in small groupings.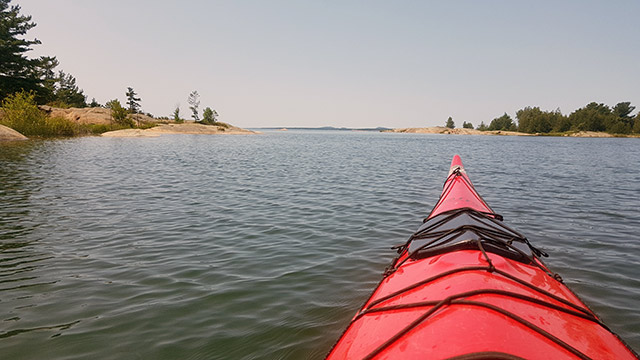 Wednesday we rented a tandem Kayam from the local outfitter. It was huge and heavy. We have done a lot of kayaking on smooth, flat lakes… Kayaking on Georgian Bay is another beast altogether. We were very concerned about wind and getting caught on the Bay. Fortunately, it was a relatively calm day. It was fun exploring the many islands. We saw many families of geese and some chatting muskrats. We did get a bit lost and tired at the end, but we eventually made our way back to recognizable landmarks. In the evening we caught the end of a sunset on sunset rock (located between sites 77 and 78). As per every evening, we enjoyed a fire, smores and a few drinks.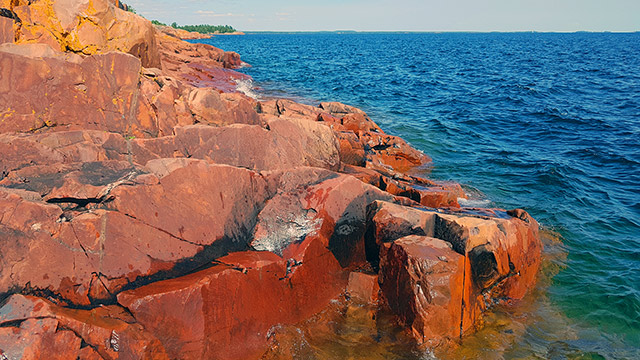 The final day (it seems far too fast) we did the Granite Ridge Trail. A much easier trail to get to a vista of the area. We also stopped into the town of Killarney for delicious Fish and Chips at Herbert's. We relaxed on the pier and watched many boats drift in and out of the harbour. It was a nice way to enjoy lunch. We got gouged for $1.49/L for gas in Killarney. Good lord was a ripoff. Before leaving we wandered through the charming local resort on the edge of town and also walked to the Lighthouse. It was quite interesting stuck on the craggy coastline. I was happy to get my favourite ice cream Black Raspberry Thunder, even if wasn't Kawartha Dairy.
In general, it was a great trip. Killarney is a lovely area to explore. We'll be back for sure.