Beer, Brisket and the Flu
July 2, 2019 @ 08:07 pm 🔗 Post Link
Family, Cuckoo, Muskoka, Gloucester Pool Cottage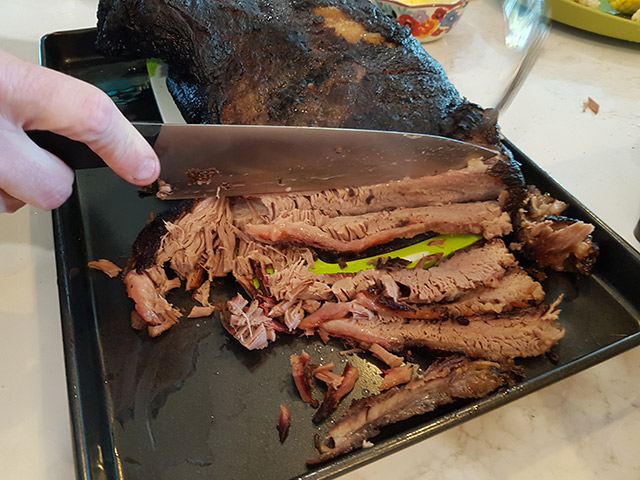 It was Canada's 152nd birthday this weekend. We were lucky to be invited to bdot's sister's cottage in Muskoka. The weather was very warm and clear all weekend, perfect for chilling on the deck. Unfortunately, I came down with (what I think was) the flu – which took me out of commission for a day. (I missed out on a trip to Barrie for Poutine and an arcade visit) My sinuses with inflamed and angry and the body fatigue was awful. I felt much better the next day. But, bdot is dealing with a meniscus tear which causes her leg to 'lock' so she can't move it. It eventually allowed movement but it keeps locking periodically. She is, understandably, quite frustrated with the situation. Our miserable bodies aside… we ate and drank really well, as always, at the cottage. Bill cooked a brisket for 16h – and it was incredible. We also had an assortment of really good beers, including the Delirium Tremens brought home from Belgium, it was really good. A shame that it volcanoed when it was opened. Sigh. We also enjoyed Flying Monkeys Sparklepuff and Juicy Ass.
In the evening we plowed through the first season of Cuckoo. I'm not a big Andy Samberg fan – I think he is incredibly one dimensional, but the Cuckoo role was perfect for him. It was really funny at times and the entire cast was impressive. They replaced Andy after season one – and from what I've heard the series was never the same. Hmm.
Drive home was surprisingly not too painful.
Sabres made some minor moves during day one of trading. They still don't have a second line center however…