Couples at the Cottage
October 3, 2011 @ 10:10 pm 🔗 Post Link
bdot, friends, tanga, Captain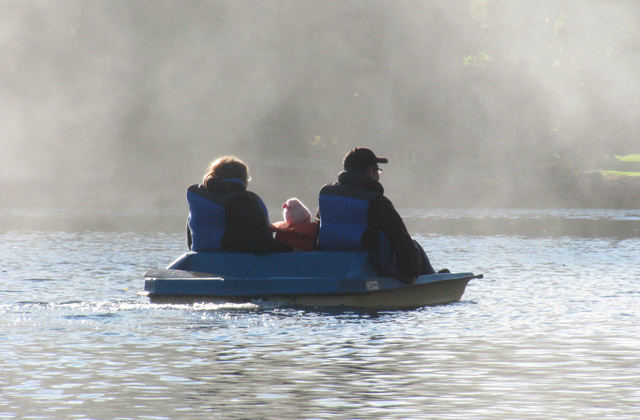 It was nice to leave early on Friday. We were able to get on the road and heading north before the rush hour madness. The destination was a cottage we rented north of Orillia near Port Stanton right on the Severn waterway. (I think we were minutes from one of the locks) Well… we have never rented a cottage before and as we drove down the street the cottage was on we entered a trailer park. Sweet zombie Jesus what did we rent I thought… But the road turned and the trailers were replaced with modest cottages… Phew. The cottage was nice on the main floor, it was dated and dying everywhere else. The property was verrry long and stretched to the waterfront. The backyard had many seating areas, a fire pit and a canoe to use. The basement games room was full of mold, the sliding door to the outside was broken and the games were not interesting. Ho-hum. The door to the basement was shut 99% of the weekend. The hostess was pleasant and helpful, and brought over some gear on Saturday but overall it was hard to make a silk purse out of a sow's ear. It perturbed me for the money we were paying we still needed to get propane to BBQ. Regardless if that was written somewhere, it was cheap and a major inconvenience. The rooms were okay, some attempt to personalize them was made, but bdot found the mattress horrible to sleep on. I wouldn't stay there again. I would rent in the area again, it was a beautiful area certainly worthy of further exploration.
We had the delightful company of Pat, Jenn and their little girl Ava. After everyone got settled the Men went out in the cold dark rainy night to find a few groceries that were needed. Amazingly there was a 24h Sobey's just north of us on 11 in Gravenhurst. We had a few drinks when we got back and chilled Friday night as everyone was tired and it was raining anyway.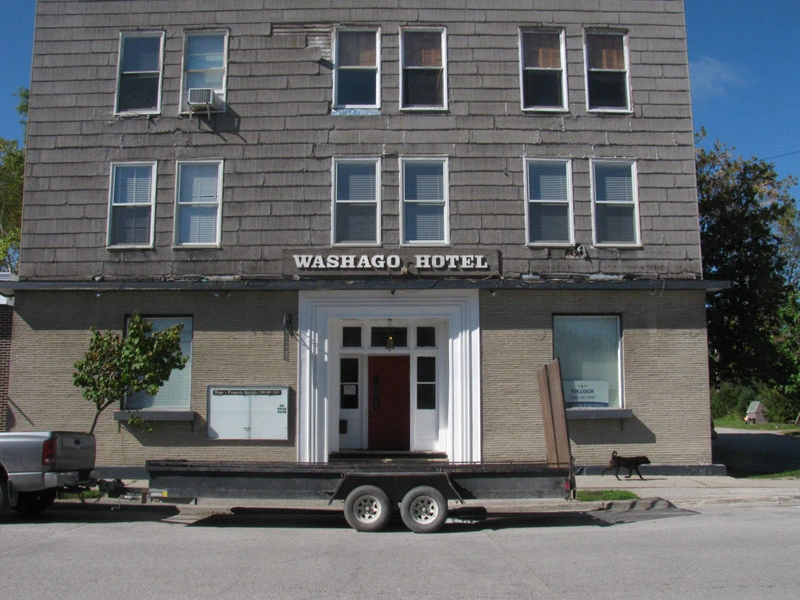 Saturday turned out to be a lovely day weather-wise. We kicked the day off with a big breakfast and delicious maple bacon. We ate ALL the bacon. After breakfast, Pat and I ventured into Washago for propane so we could BBQ dinner. Hmm… it was an odd little town. It felt like a place someone would go to disappear. We were greeted by a black lab forming at the mouth as he wandering around aimlessly on the streets. The dog nearly got hit by several cars in the few minutes we were there. *cough* There was an interesting hotel across from where we parked. Perhaps the only interesting thing about the town, and it was closed. The afternoon was divided between chilling in the backyard and a nappy. I think the long week caught up to me and I crashed out for a few hours. In the evening we made a massive dinner and everyone ate like royalty. After dinner Pat and I were tasked with making a fire. It was stupid dark, we had no flashlights, no kindling, no axe and the the wood we bought ended up being damp. Making a fire ended up being an uphill battle until Pat thought of using the bacon grease from the morning breakfast. Yes! It coated the wood in fire loving goodness and bam fire! Sniff… is there anything bacon can't do? Again – I love you bacon. So we gathered around the fire and enjoyed a bunch of drinks. The Cameron's Dark 266 went down quite nicely. Post-fire we had a few more drinks inside and had some good laughs. I don't remember over what… Hmm. It was a wonderful day, great company, delicious food and good times.
Bdot and I had to get going pretty early Sunday as we were meeting a photographer in Wasaga Beach. We stopped briefly at my sister's to pick up the dog (thanks again for watching her). Silly dog spazzed out at me barking and howling – I had my hood on since it was raining, I guess she didn't recognize me… Stupid dog. Some of the homes along Tiny Beaches Road on Georgian Bay were incredible along the road to the photographers. We had a short chat with one half of husband and wife team of Visual Roots. We liked her and her work, but they seem a little pricey. I think we will do a little more diligence to see how they compare relative to a few other photographers and other packages. I think GPS are a lovely pieces of technology. We saved the location of the previous dog walk and could see we were driving right past the location on the way home… So, bam! dog walk done. Bdot was under attack from the flu all weekend so by the time we finally got home she needed to flake out on the couch. I was also tired and used the time to chill out to some gaming. Overall a busy but enjoyable weekend and we get to do it all over next weekend as we head up to Killaloe for Thanksgiving!