Trumped up
January 23, 2017 @ 07:01 pm 🔗 Post Link
Christmas, Family, food, Flying Monkeys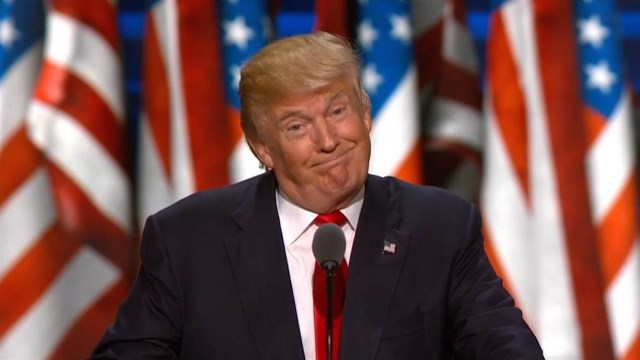 Yes this really happened. I guess some small part of me hoped that it really was just a twilight zone episode but it isn't. We better get used to seeing the comb over king as President. It is remarkable. All Tr*mp did was bluster. Anti-this, hate that… he has zero political experience, zero foreign affair experience and has declared bankruptcy SIX times. He has made derogatory remarks about religion, women, minorities, the handicapped, various foreign nations, the media, the last President and the current state the U.S. of A. Phew! But of course, he promised to make 'Merica great again.
I can't f*cking wait! Sigh. The Woman's March on Washington was incredible. There were marches in most major cities throughout the US, but as interesting, there were also marches in nations all over the world. Regret is a terrible thing. This sums it up quite nicely:
Last week was my BiL's birthday. My Mom drove up to Bolton then we ventured up to Barrie to join my sister and BiL for dinner at Flying Monkeys Pub. The pub is really interesting inside. The ceiling is covered with Rock album covers (including a few of my favourites!) The town of Barrie was hosting an event called Barrielicious to attract people into restaurants around town. It seemed to be working as it was busy while we were there. One thing I enjoy is trying new beers. And since Flying Monkeys is also a brewery – there was the option to sample with flights of beer! Glorious! A few that I recall that I tried: Netherworld Cascadian Dark Ale (solid, as advertised), Flying Monkeys Amber (delicious), Juicy Ass (okay)… a few I can't recall the names, one had some odd root in it – it was pretty strange. It seems a lot of the available beers were limited run beers as they are not on their website as standard beers. Dinner was pub food. It was well done. I highly recommend the pretzel as a starter. Mmm. It was a fun night!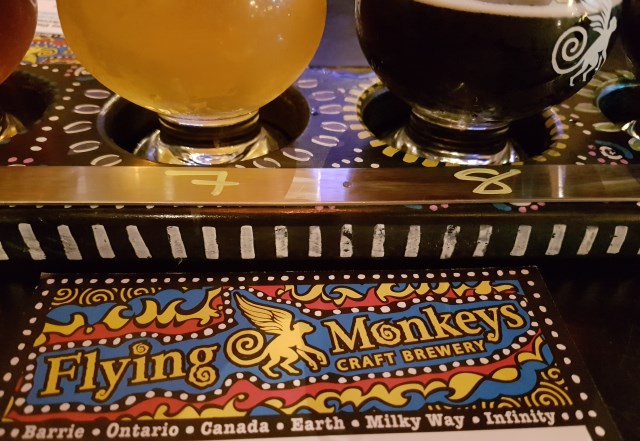 The fog was pretty nuts on the 400 driving home that night. Took a shot of Barrie as we were leaving.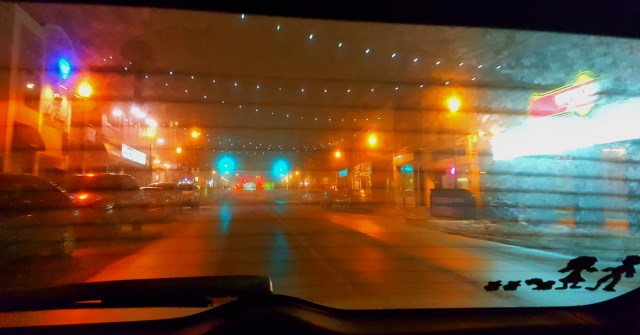 Took down the fake Christmas tree today. Until next year.