Thanksgiving Weekend
October 14, 2013 @ 09:10 pm 🔗 Post Link
Family, Capon, Rogers, Thanksgiving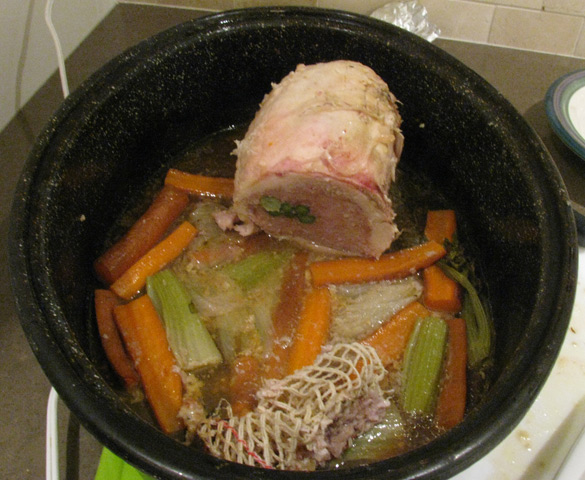 It was a busy weekend. Bdot's parents were here the entire weekend. Her dad goes to bed early, usually by 7AM. So… by early morning he is often up. Well… I guess he thought it was a good idea to wander around the pitch black house with a flashlight early Saturday morning waking bdot. She had no idea it was him and thought someone was in the house. She awoke me somewhat frantically… Now if this were the States I would likely have got my gun. Fortunately it isn't. We crept down the stairs and eventually discovered the intruder was her Dad. Unreal.
Thanksgiving dinner was pretty awesome. We opted for something a little different and instead of a turkey we tried a capon stuffed with sausage and asparagus. It was quite good. Bdot also slaved in the kitchen making stuffing. The night was joined by bdot's brother who introduced us to the series Ray Donovan which looks promising. Apple and pumpkin pies for dessert!
Sunday marked my one year anniversary with bdot. Happy anniversary mon petit chou. Unfortunately we didn't really have any opportunity for any alone time.

Today we had bdot's sister and the nephews over for a few hours. They treated the hot tub more like a wrestling ring and seemed to have a lot of fun. I was happy to see the new patio can easily accommodate five or so people comfortably.
Ahh Rogers. How I hate thee. Our TV has been out for days so bdot called to raise hell. She calls nearly every year to 'renegotiate our plan'. Well this year resulted in us getting their new PVR Nextbox. Which has sat in great room offering us nothing but a black screen, blue spinning LCD snake and errors. Awesome! We had a tech in and he couldn't fix the issue. He said it was an issue at the box and someone else would have to replace some parts or something. It has been pretty frustrating. A house with extra guests and can't even get some down time with TV. Yup.
Oh and the Sabres are 0-6-1 to start the season. Wait! There is more! Pominville scored the winning goal last night for another one goal loss. So when exactly does this become hockey heaven again? Siiiigh.