In search of water
June 29, 2023 @ 05:06 pm 🔗 Post Link
Friends, Ukraine, Toronto, Glouster Pool Cottage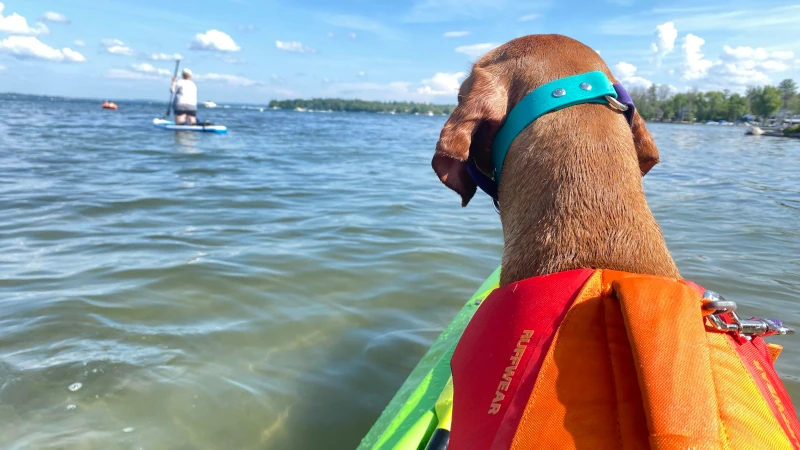 We had a short weekend away at the SiL's cottage. Of course, it rained as we loaded the car and mounted the kayak. *eyeroll* Her brother made a rare appearance at the cottage so that was a significant reason to head up this weekend. It was a pretty chill weekend. The weather was pretty unsettled. Rain was often threatening and Sunday was so smokey it actually irritated my throat. So there was a lot of lounging and talking. In the evening we were hooked on Jury Duty. The concept is pretty intriguing, it is really just an epic prank. The premise is to setup one person to sit on jury duty for a case that isn't real. The trail is fake and everyone, other than the 'hero' are actors in on the 'prank'. It is the lengths the actors go to see if the 'hero' has a breaking point. It is often ridiculous. But the 'hero' has such a big heart that he tries to work through all the fake adversity thrown at him. It is light and entertaining. While the humans were relaxing, the dogs were not. I've never seen my dog so fixated on hunting chipmunks. She would literally go from one rock pile to another FOR HOURS to the point of exhaustion. You couldn't even physically pull her away from hunting... it was actually getting pretty ridiculous. It was just two nights.
On the way home we stopped in Innisfil to kayak/paddleboard with Bdot's dog crew. The body of water was Lake Simcoe and it is big. It was a perfect hot day to be on the water... even if you had two left paddles. *snort* I can forsee doing that again at some point. I really do love the kayak as my water craft...
Oh R*ZZ**. The rats started eating each other this weekend. Yes, the paid mercenary group that P*t*n hired turned on him and took a region in south western R*ZZ**. After this dramatic show of force - the two factions called a truce before significant bloodshed occurred. I'm not sure what to think of this. Sure it takes away troops from Ukraine and weakens P*t*n but is there any better option to lead R*ZZ** back to reality? *Shrug* I don't think we have heard the last from the Wagner group... I fully expect their bile to rise to the surface again at some point. That is if P*T*n doesn't have them fall out of windows first....
Toronto elects a new mayor tomorrow. it is looking like it will be Chow. *shrug* It is a shame Tory resigned in such a disappointing manner after such a long respected run. Meh.
update
Chow won. *shrug* We'll see...
update