Another year older
November 28, 2016 @ 09:11 pm 🔗 Post Link
Art, bdot, Christmas, Marsha Z, Wyatt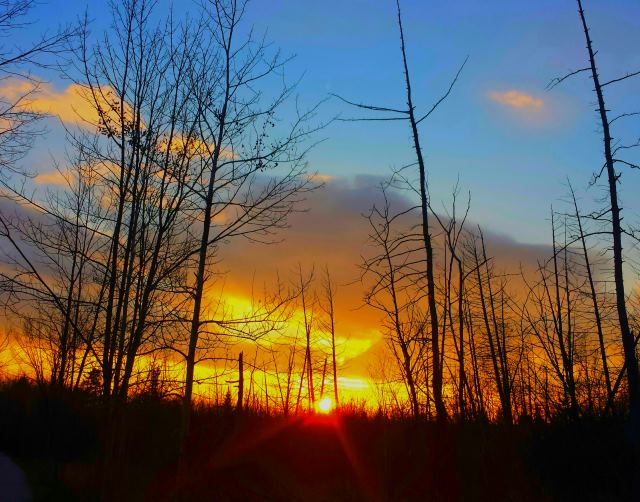 Saturday was as busy a day as I can recall. It was also my birthday. The day started with a trip North to pick up a Christmas tree. One of bdot's client's owns a tree farm and generously offered us a tree so we were off good and early to pick one up. A good sized Christmas tree can be $75 or more, so for a few donuts we scored a tree. It amazingly fit into the Subaru (with room to spare!). It was already bundled so we had no idea what it would look like.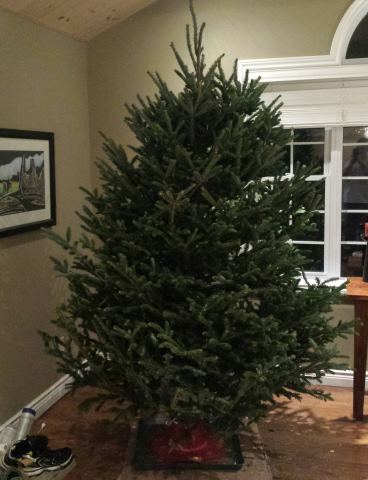 As you can see it is very bell shaped. Bdot had 'just enough' lights to wrap around its generous bottom. I'll post more photos as the decoration continues.
The second stop on Saturday was at my cousin Marsha's in Hamilton. She is an artist and was hosting an open house for people to come see her art. Bdot surprised me with Edwin as part of my birthday present. I also squeezed in Clyde, Lizard and a Wyatt original. You can see Edwin on my Instagram so I'll post her son Wyatt's painting instead. He painted a series of monsters. This fire breathing, horned monstrosity was my favourite.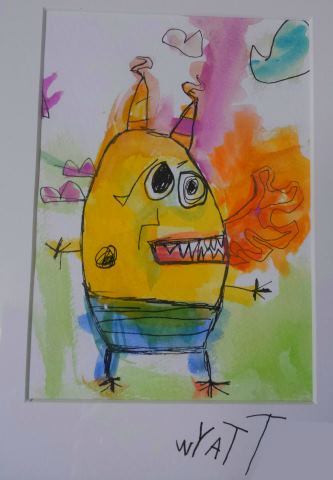 My cousin clearly put in a lot of time to prepare for the open house. She looked pretty bagged – and it was quite busy in her small living rooms. (She also divided the space with another artist so it was really everything in one room) She later remarked the day was successful for her. I made out like a bandit. Thank you bdot for the art, the sweater and lovely card. The new art will look great in my newly painted cave.
Two stops weren't enough! We left Hamilton for Puslinch and dinner at JoeyJoe's. It was actually pretty quick to get there from Hamilton mercifully. We noticed Joe has been busy. He converted the rental room in to a separate living area off the kitchen. That is pretty awesome. Eventually Pat, Jenn and Ava arrived as did MikeMike. After everyone arrived we ventured into the forest to gather branches for the seasonal urns. It is always great to see my buddies. Mike updated us on his continuing saga with his ex-wife and kids. It seems for now he will be cut out of their lives. It seems quite tragic and shortsighted to me. It is the type of decision I fear can ruin a person. Hopefully they, and he, will persevere. Even with this somber news the tone of the afternoon and evening was bright and full of laughs. Mike was happy to have moved on and now has a new significant other. I sure hope he has a brighter future. Dinner was great as always although it was pretty over powered with vegeta. A fun night as I expected with my mates.
Sunday was quieter. We made a short stop at Glen Echo for more Urn related gathering. Then we had a nice walk in Caledon East (photo above) with the exception of the insane pit bull that lunged at Tanga. FFS people control your dogs. The evening was tree decoration and attempts to salvage old Christmas lights. This was more futile than the Sabres rate of goal scoring…