Momentous comeback falls short
January 4, 2012 @ 10:01 pm 🔗 Post Link
Canada, hockey, Asus Transformer Prime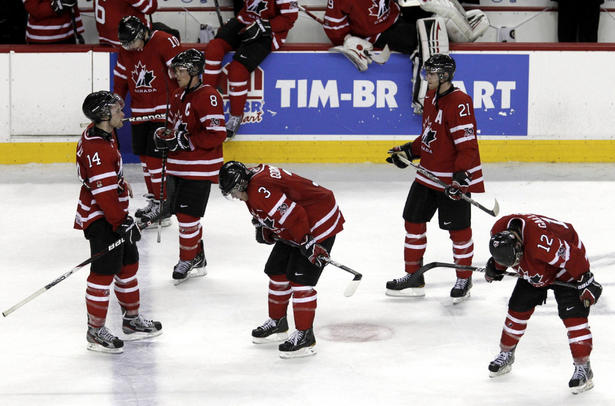 Ahh yes. Hockey and Canada. Canada and hockey. The proverbial measuring stick of our nation's pride, the success or failure in international competitions. The World Juniors tournament has been pumping out Canadian chests for close to a decade with numerous gold medals and final appearances… This year it ends. The best Canada can do now is bronze. I do hope they win Thursday. The gold or nothing expectation, while wonderfully ambitious is unrealistic. The hockey world is getting crowded with many great hockey powers and new ones are emerging… Canada is no longer dominant. I do expect our national reps, yes even if they are just kids, to compete… I have no problem at all with the compete in the Junior Canadians this year.
As one of the millions of over zealous Canadian hockey fanatics I watched with dismay as the Russians kicked Canada around, in our own building, for two periods. The Russians excelled everywhere on the ice and it ultimately showed in spades on the scoreboard. Going into the third the score was an embarrassingly lopsided 6-1 in favour of the Russians. Even at that point I was thinking of how many missed opportunities Canada had and their lack of finish. (Was I watching a Sabres' game?!) I thought if the score ended being such definitive failure that Hockey Canada would explode. Then Canada starting mounting a comeback. They pushed hard in the final 15 minutes of the game and got within a shot of tying the game. That, unfortunately would be the closest they would get. Yes, I'm disappointed they lost, but the comeback and drive in the Canadian boys made me proud. It would be pretty easy to skate around and sleep the third down by five goals, but they didn't. They battled and made a game of it. The Russians pulled their starting goalie and looked to be on the ropes the final minutes of the game. It was a dramatic and exciting ending. I enjoy international hockey, it always seems much more intense than NHL games. More skating, more passion, more energy… Hopefully the Russians will taste defeat in their home building by our hand next year.
Ironically the Sabres ended up winning at home last night, a faint silver lining on my sports evening.
Back to work. Gah. At least the schools are still off so traffic has been great this week so far. I was ridiculously early today.
I've decided to look at other options instead of the Asus Prime. I'm starting to feel like I don't want to give Asus my business for boggling the release of the tablet and continually keeping consumers in the dark. (Not to mention some underhanded business going on with Wifi and GPS settings…) So, options: It looks like Acer is releasing a quad core tablet this year. Hmm. I was hoping for a higher end manufacture… Acer. Ho-hum. HTC Quattro? Hmm, that might worth a look, the specs are somewhat disappointing however. I don't think 16G is anywhere near enough storage. My phone is always maxed with 8. I do love my HTC phone however. It also looks like Toshiba and Lenovo are looking at making Quad Core Android tablets this year. Hmm. I'd still be giddy with a Prime of course, but I hate feeling so dicked around by Asus. They better get shipping some product.