Let there be light!
January 8, 2012 @ 10:01 pm 🔗 Post Link
friends, home, tanga, Wild Wings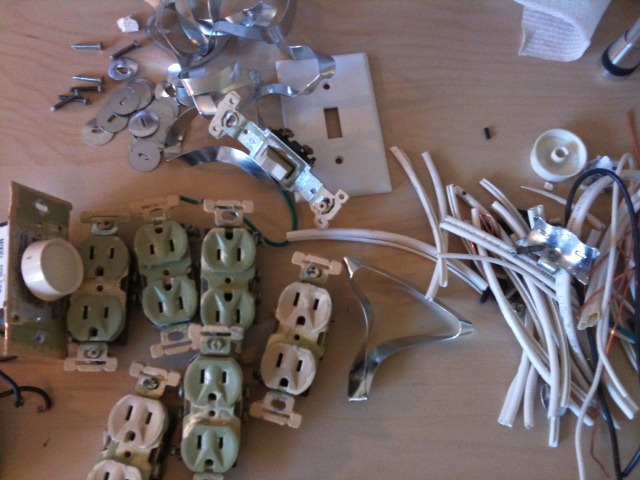 It was a busy home improvement weekend! We had the Mac family over for most of the weekend. They arrived late Friday. Mac Daddy is an electrician and we had a full days worth of work lined up for him on Saturday. The main goal was to have potlights installed in the living room. The living is bright with the big bow windows during the day, but at night it was lit by a single lamp. Bah. It was a pretty long day for me being the electrician's bitch. I think I wore a path going up and down the stairs to the breaker. I shouldn't complain… Mac Daddy had a nasty time crawling around in the attic, even with respitory protection he was still coughing pretty badly. The end result is very impressive difference! Let there be light! We also replaced all the living room outlet covers, added a dimmer switch to the potlights in the great room, put up a new light in the downstairs washroom and a new dimmer for the kitchen. We got a lot done. I never really thought about the impact good lighting can have on a room… but I'm very happy with the living room at any time of the day now. While the Men worked at home the Women were at a Wedding show. Bdot went down to the Toronto Bridal show with Mac Mommy. She didn't get much out of the show other than a led on a wedding invitation vendor in Bolton. A sign of the times, Bdot and Mac Mommy were mistaken for a couple a few times. *smirk*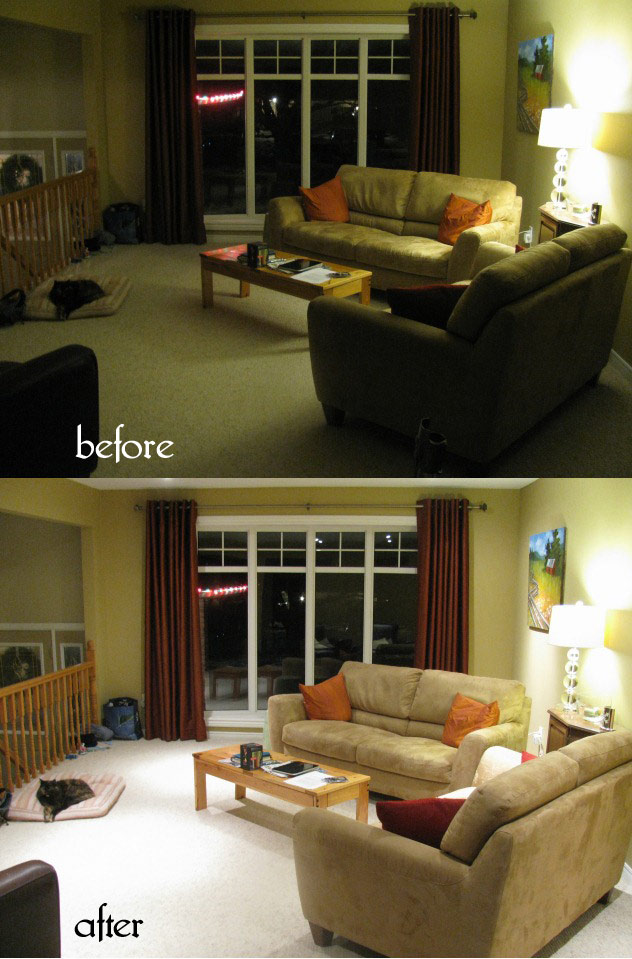 For dinner Saturday night we went to Wild Wings for the um, kids. It was a fried food feast. We split an order of Hot and Honey Garlic boneless wings and Dry Cajun wings, onion rings, fries and pickled Willies. Yeah, delicious and horrible for you. I felt okay afterwards, bdot, not so much. The bar is pretty cool and is a great place to watch a hockey game. Im sure well come back sometime soon to do so. When we got back home the Men watched more hockey in the great room the women were upstairs. I don't know what they were doing, but I heard a lot of giggling.
After breakfast Sunday morning, Mac Daddy dealt with a few final electrical problems. After things were done and everything was working properly, we had a short walk in Palgrave with the kids and leashed dog. The rest of the evening was down time.
We finally took Tanga in for her hysterectomy last Thursday. It went well. It was nerve wracking for both of us until we heard she was okay. You never know, and she is a very sensitive dog. Not surprisingly she is hyper-sensitive to being bumped or having anyone (other than B. and I) near her right now. She is sleeping a lot and occassionally will yelp when jumping off or onto something. Hopefully there won't be any issues as she heals, about two weeks.
Pretty crazy playoff game between the Steelers and Broncos. Tebow with the win. I'm undecided whether I'm a fan or not, but it was an exciting win neverthelsss.