KMFDM doing it again
August 18, 2011 @ 07:08 pm 🔗 Post Link
music, KMFDM, Phoenix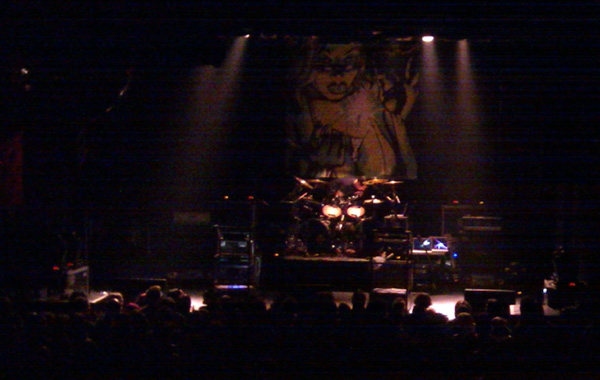 Tuesday KMFDM brought their industrial-rock juggernaut to Toronto's Phoenix Concert Theatre, and I attended with Richard and Raj. I, like many people, don't get too excited about having to drive downtown Toronto, and after I realized I forget Gwen (the name I call my GPS) I was even less excited. However after a quick look on google maps for their recommendation, getting to the Phoenix was actually pretty painless. My concert team was running a little behind so I walked over to Yonge & Carlton to meet them. Gawd was it hot. I think it got hotter with every step towards Yonge. After a light bite at a patio we walked back to the Phoenix and got in line. The line seemed to move quick and we got inside within 30m. Getting older as I am, standing for 4hrs can get pretty brutal… There is a nice seating area upstairs at the Phoenix that I always try to get to. It is always full people I can get there, well Tuesday we got a table! So we were seating front row balcony essentially. Sitting was pretty awesome, granted even the crappy plastic chairs got uncomfortable after 3hrs, but the view was awesome, and no one spilled beer on me there. The only odd thing was the metal bar in front of where I sat. It was perfectly in my sightline… All night it was a curious decision of looking over or under it. *shrug*
There were two openers and the first band Human Factors Lab got started pretty quickly. They were a simple industrial-rock band. Overall we found them pretty dull both lyrically and musically. We wondered if they borrowed props from the Def Leppard/Heart concert when they repeated shot sparks into the crowd. Ho-hum. They tried but their material could use some serious refinement. Their lead singer was also the biggest man I've even seen as a lead singer. Just a observation.
After that lack-lustre beginning we were hoping things could only get better, and they did with Army Of The Universe. I've never heard of AOTU and was really wondering WTF when they took to the stage. It was like they picked three random guys from the street. They couldn't have been more different from each other. The guitarist looked like he came from a 80s hair band. He had long straight blonde hair and did a lot of typical guitar-god-with-hair head thrashing. The lead singer looked like a body-builder/model and the keyboardist looked like a college professor who lost his way and found himself on stage. I'd love to hear how these guy met. Don't just a book by the cover though… musically they were tight and really interesting. They played a mix of heavy industrial dance beats accompanied by heavy guitar riffs. The vocals were surprisingly unmodded and clean, almost soft but very strong. I liked their material. They, ironically did a cover of Bjork's Army of Me, it was curious to hear a male vocalist sing the song like Bjork does. The entire evening the sound was off. For each band something didn't seem right in the mix. Guitar's were too soft, or vocals too quiet… the sound never seemed well balanced. After Army's set I was really curious to hear what their studio work would sound like since I thought the mix was so uneven. I've since checked them out and I've added them to my blip rotation, solid band!
Roadies often blend into the background during shows. They are the unsung heroes that make concerts run. So it was pretty funny to see a roadie, if even unintentionally, show some of their personality between performances as he setup. I don't know his name. He had a red shirt on, glasses, looked pretty young, I'll call him Red. Anyway, Red tested each instrument himself. When he got to the front mic instead of doing the typical, check… check… test… check one, check… *gah!* he sung part of Public Enemy's Black Steel In The Hour Of Chaos. I thought that was hilarious. Nothing big, a few lines, but was just so unexpected, he got a big ovation. He was busy all night long too, keeping body surfers off the stage & equipment and stirring up the crowd for the encores. I bet he loves his job. Well done Red. *grin*
As with most concerts I've seen lately, the crowd seems pretty indifferent until the headliner takes to the stage. The crowd was into AOTU, but exploded only when KMFDM took to the stage. When they did, they started into the music immediately… they didn't say 'hello Toronto' until near the end of the show. I've always found that curious. *shrug* Well I was expecting a solid show from these 20+ year veterans of the music scene and they didn't disappoint. They brought a solid guitars- set-to-kill industrial punch to the gut. After the show Raj commented that when Sascha met Lucia he must have felt he hit a home run. She had incredible stage presence and a great voice, which is good because the rest of the band does not. Granted being locked to a keyboard doesn't help, but even the guitarists didn't interact that much with the crowd. I wondering what their stage presence would be like without Lucia. Not that it matters I guess. Lucia Cifarelli was pretty spellbinding… and yes, very sexy even for 40. She pranced around the stage with cat-like movement and sudden dramatic movements responding to dramatic musical queues. They ripped through a bunch of new material and Drug Against war. The encore song was of course Godlike. I didn't really care for how they played Godlike, it was too stripped down for live performance IMHO. They played a ton of songs and did a decent encore before being cheered on with KMFDM! SUCK! Solid show. I did feel it was getting a little long in tooth however near the end of the show… It is a long day that starts at 6AM to be at a concert after midnight, still to drive home (1hr) to get up again at 6AM. I understand why concerts have to be on weekdays but it does suck.