Finger Lakes Day 4 : Homeward
August 2, 2011 @ 07:08 pm 🔗 Post Link
bdot, food, vacation, Cheesecake Factory, Finger Lakes, Hayward House B&B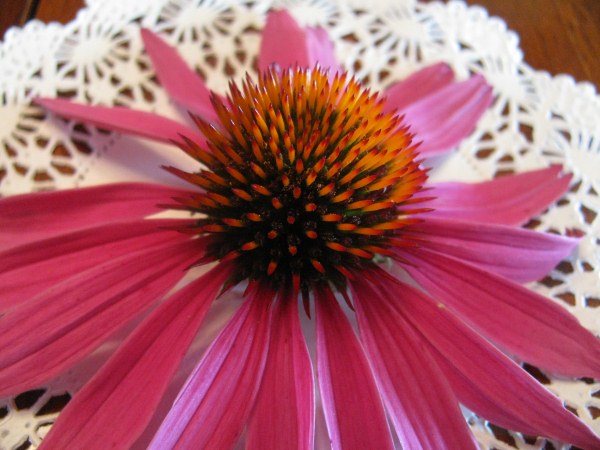 All good things come to and end, and this trip was no exception. It was a lot of fun, good weather, great food, incredible region. There was tons we didn't get to, so we'll indubitably be back. We went to Trumansburg in search of Gimme's coffee and cheese curds before heading North. We are glad we did, Trumansburg looks like a fun little town. An extended visit is in order for the next visit to the region. The town had several restaurants, bars, a coffee shop, and clubs that offer live music. Yes. We'll be back. After perusing a few grocery stores (and picking up some Ithaca Root Beer) bdot found some curds at the Shur$ave and coffee from T-burg. It was crazy hot as we walked around Trumansburg hitting 91F. Gah.
We drove home along the 89. Another beautiful drive along Cayuga Lake. We made a short stop at the Amish Market. There are rooms of household furniture but nothing really stood out for us. Bdot wanted to stop at the Waterloo Outlet Mall. She found a bunch of clothes but was somewhat disappointed with the outlet. We continued home and stopped at the Galleria Mall for dinner at the Cheesecake Factory. (P.S. their website is a bit goofy). I could have licked the plate clean I was so hungry. I ordered a scrumptious Chicken Bellagio. It was amazing. Bdot enjoyed her the Seared Tuna Tataki Salad. Obviously those who like cheesecake would want one of their monster slices of cake, but I dislike cheesecake and bdot was full…. so next time. The restaurant is massive and it looks like it run like a small army. It has to. There must have been over a hundred people eating there. I'm not sure what I think of the decor… it was odd, modern circus Egyptian? *shrug* Anyway, delicious. The border wait was about 35m and pretty painless. We stopped at the Starbucks at the Fairview Mall so bdot could caffeinated. We ended up getting home pretty late so we decided to leave for Round Lake on Wednesday.
Note: Each day in the Finger Lakes was entered as a separate entry, go back to read them. We stayed at the Hayward House B&B. The hosts were helpful and very accommodating, the breakfasts delicious and rooms clean with complete amenities. I would highly recommend staying here to anyone. I know we'll return one day.