Round Lake Holiday
August 14, 2011 @ 07:08 pm 🔗 Post Link
Family, friends, Bridesmaids, Dead Snow, Felix Gilman, Round Lake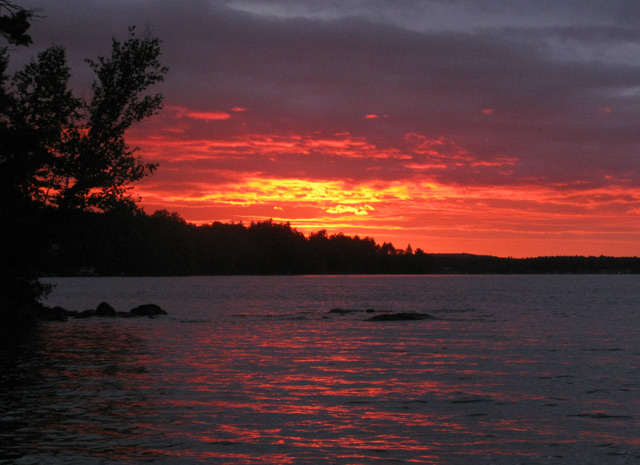 Round Lake in a few words: Family. Food. Friends (Trish & Finn/ BonnieTheGreat/ Jessica) Scrabble. A little gaming (Torchlight keeps giving love). Sun. Rain. Chilling. Beer (delicious Mill Street Organic). Swimming when hot swimming when cold. Ice cream sandwiches. Trish's cottage and camping at Trish's. Bonnie's visit and lots of time on the deck. Ugh Internet connectivity has been a royal pain in the ass: One bar. No bars. No service. One bar. No bars. One bar. TWO BARS! One bar. No Bars. No service. Argghh… Reading. The Half Made-World. More reading. Tehanu. Rum and Root Beer. Phone calls. Aubrey injuried. Storm. Wonderful art stop at Joyce Burkholder's studio in Wilno. We found two pieces we really liked. On display at home soon! Irish Coffee. Rum Cake. Irish Coffee. Rum Buttered Bananas. Wedding Venues? : Spectacle Lake Lodge Chippawa Resort. What?! Delicious Fries : Papa Bear's Fresh Cut Fries.
It has been a long time since I've read any fiction. Years. Many, many, years. However, I thought since I was expecting a lot of relaxation time at the cottage, I'd grab a book. Chapters was closing and I didn't have much time… I read Fantasy back in the day and enjoyed it, so I went to that section. I was hoping to start a multi-book series… but nothing stood out to me. One book did however, and it was endorsed by one of my favourite author's Ursela Le Guin, so I grabbed it. Under a week later and I just finished Felix Gilman's The Half-Made World. I think that is the fastest I've ever read a novel! The final 150 pages I didn't put the book down. That should suggest how much I enjoyed it. The characters were complex and very well developed. My favs being the main characters Liv and Creedmoor. Liv, the traveled scholar who ends up with the final twist in the plot constantly showed human frailty. Creedmoor, the solider, the warrior, the gun, the conflicted human… an awesome character. The plot with the conflicting spirits, the Gun, the Line, the history… it all wove together to create an incredibly engaging and interesting novel. I'm hoping Gilman brings these characters back in more tales, although I can understand if he did not. Anyway. Remarkable Sci-fi/Fantasy. It has reinvigorated my interest in the genre and added a great author to my must read list.
Watched Dead Snow. Nazi zombies? Oi-vey. For a laugh only, even then you may wish to have the 90m back. ⭐½
It was a great time at Round Lake as usual. It was busier than I would have liked however. Nothing against anyone at all…The guests and visits were great. I just wanted more quiet relax time, it seemed that groove was always interrupted. We had good weather with the exception of two days. The days it was cool or raining we went to Wilno and Barry's Bay which were also eventful. It is good holiday when you wish it was longer… Still. It is great to home. The pets are like glue. After the LONG 7+ hour drive home (after all the stops) … we relaxed and watched Bridesmaids. Huh, not at all what I was expecting. I have sat through some shit 'chick flicks' but this was not one of them. The comedy was dark at times and the characters (both lead and minor) were very entertaining in their extremes. Yes. I liked Bridesmaids. ⭐⭐⭐½ *whistles*
So far Sunday has been a massive morning of faffing around on the Internet. Ahh sweet broadband how I love thee.