Awesome times at Awenda
July 13, 2015 @ 11:07 pm 🔗 Post Link
bdot, friends, vacation, weather, Awenda Provincial Park, beer, Trooper Ale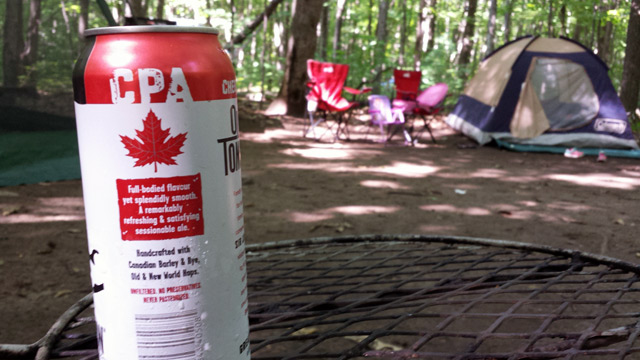 I don't recall the last time we went tent camping. I'm guessing the dreaded Canoe trip to Algonquin many years ago. But I guess it is an itch that occasionally needs to be scratched. So we found an open weekend and arranged to camp with some friends at Awenda Provincial Park. Early in the week the weather was looking horrible. High probability of rain was possible on both days. But as the week passed the chance of rain dropped every day! It ended up being a perfect sunny and hot weekend. The kind of weekend you want to spend in and near water. We decided not to bring the dog so we could go biking and spend our afternoons on the beach. My mom seemed happy to get a few days away from Niagara so we were happy to let her watch the horde. Packing for trips is always, by far, the worst of trying to get away. It is a lot of running around, gathering, planning and organizing. And sometimes plans take an unforeseen and unfortunate turn. We were in the final stages of packing the car and loading the bikes when we realized the cotter pin for the bike hitch was missing. Unreal. It was very disappointing. We rarely get away without the dog so we were really looking forward to biking around the park. Alas… it wasn't meant to be. We were already running late so we had to leave the bikes behind.
The drive up was about 2 hours. Pat, Jenn and their daughter Ava beat us by about 20m and were already on the site. We read the descriptions of a ton of sites before picking Bear site 139. The reading paid off. Bear 139 was a great site: it was a good size, close to the comfort station and still pretty private. In fact most of Bear's sites looked better to us compared to Deer, which seemed much smaller and closer to road. The weekend was quite relaxing. Most of Saturday and Sunday was spent on the beach. It was really hot. The beach was the perfect place to be with a cool breeze, some shade and refreshing water. In the evening we enjoying some beverages and cooking over fire. One of the highlights was delicious nachos baked over fire. Highly recommended! I finally cracked open the Trooper beer that has been sitting in my fridge for a while. It was good! Bdot picked up a random assortment of beers from the LCBO and all of them that I tried I'd get again! Well done! The beer included: Pompous Ass English Pale Ale (Great Lakes Brewery), Canadian Pale Ale (Old Tomorrow) and Hey Day Hefeweizen (Granville Island Brewery). It was a fun weekend. It certainly feels like it went by too fast as we wish we were still on the beach.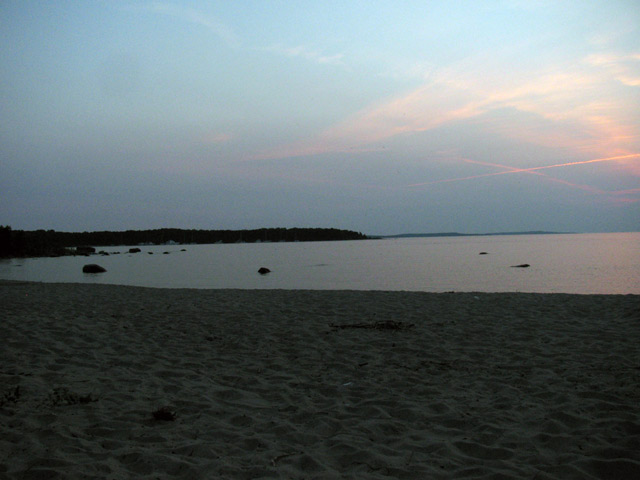 The drive home was actually good! The first stop was for food at the remarkable Wolf Chalet. It was a random food truck stop and it certainly impressed. Great burger, solid poutine and wow, deep fried broccoli! We'd certainly stop there again and we'd certainly return to Awenda. We trusted google maps to get us home. It took us on a strange route that proved to be really efficient and avoided the 400 nightmare completely.
I'm still trying to hunt down a cheap laptop and have my sights on a few from Dell's refurb site on Ebay. I've bid on a few but have lost them all so far.
Saw a version of the Myers-Briggs personality model test on a buddies blog. I'm an ISFJ. You can take the test here or the Marvel Super hero version here.