A Whole lot of Christmas
January 5, 2022 @ 06:01 pm 🔗 Post Link
Christmas, Gaming, Geeky, Home, Sports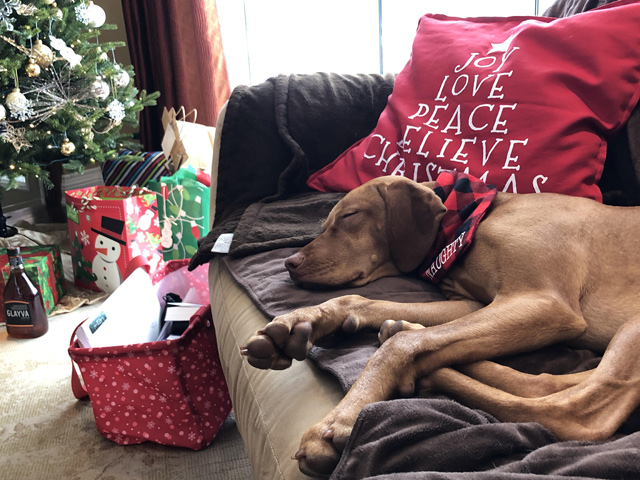 Yes, as usual, it has been a few weeks since the last entry.
So I've been laid off again. It was slow and tedious at work anyway. I'm hoping this will give me an opportunity to find something better. Not sure how long I'll be off. With all the horrible Covid talk, it could be a while.
It was a Covid Christmas. Which means it was far from typical. We didn't have dinner with anyone but ourselves. Bdot still made an excellent turkey, which has led to excellent soup. We did have a walk in Niagara with my Mom and a snowshoe with my sister and BiL, otherwise we have went nowhere.
We celebrated most of Christmas with just each other. Which was fine. There is nothing wrong with quiet. Bdot tried and tried to score me a PS5 – but their online release has been ridiculous. Queues for products that weren't there. After reading about the many glitches – I'm happy to wait anyway. I did score a lot of swag and some surround sound speakers I've been eyeing. So now I have 7.1… and it really sounds nice.
I continue to enjoy FREE classic WoW. Playing a bunch of classes for the first time. Mage is fun. Warrior I'm still levelling… Steam Sale! New games: Far Cry 4 and Solasta – both of which I'm enjoying. Burning through Better Call Saul which is very well done… a bit a slow burn. Also watching the World Juniors. Go Canada! Play for GOLD tonight!
New Wonder Woman was pretty awful… it is generous to give it ⭐⭐.
Well 2020 is in the books. It was an unusual and odd year for sure. The disruption to normalcy from Covid-19 was felt in pretty much every aspect of life.
UPDATE!
Meh. Silver this year vs. the U.S.. 2-0. Could not get into the scoring zone. U.S. boxed us out all night. Good effort but Silver is Silver…