Getting Outside in the Winter
February 10, 2020 @ 09:02 pm 🔗 Post Link
Hiking, Winter, Ski, hockey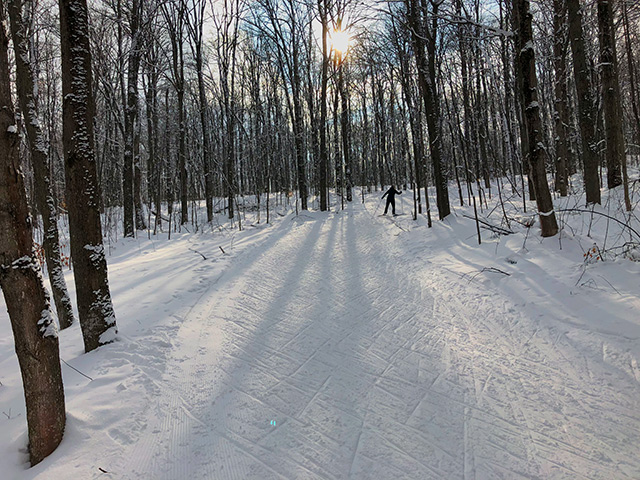 We have settled into the Winter season. There have been a few snowfalls and it remains cold enough for a base layer… so that means skiing. Two weeks back we made our first visit to Highlands Nordic. It is a bit of a drive for us but it was a really nice location. We took advantage of "Bring a Friend" day and paid reduced rates. I found the trails were fairly well marked and offered a good challenge for our level. Some sections were particularly beautiful and the Lookout was pretty impressive too. You can refuel upstairs in the main building with a basic assortment of food. We both enjoyed the 'Soup of the day'. I'm sure we'll return to Highlands again this season.
Since the last update we also did a Winter hike in Hockley with Monesh. We took the poor guy on one of the hardest local hikes we have. He didn't have crampons so I shared one of mine. It was a passable solution. It was a lovely hike.
This weekend bdot was away at a writing retreat with her sister and friends. I manned the fort and worked through my "honey do list".
Many Sabres fans are becoming vocal about their resentment toward the team. Especially with the owners' perceived indifference and the lack of transparency from ownership. The team keeps losing too. I wonder how ugly it has to get before something is done.
Ball Hockey also rolls along. Last week, a few guys stopped at Pizza hut for some post-game chatter and food. It is great to shoot the sh*t with some guys… I get very few chances to do that lately.
Ha. The corrupt, selfish, unconstitutional Republicans shocked no one and tolled the party line instead of serving the people they were elected by. America has lost so much respect with 45 in power and now the Senate is complicit with his garbage behaviour. It is beyond embarrassing.